Bernard Tomic reckons he is not as bad a person as some people believe he is after hearing about him.
According to Tomic, those who start to keep in touch with him on a regular basis and get close to him, they change their opinion as they get to know his real personality which is quite different from what is portrayed in the media.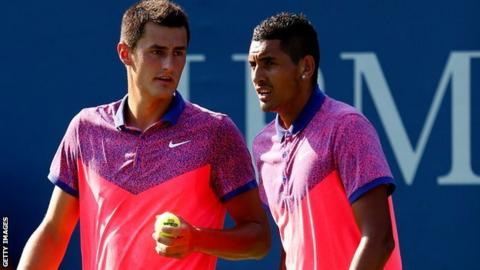 Tomic along with his compatriot Nick Kyrgios are considered to be the two bad boys of Tennis in the modern generation. Both of them have found themselves in a number of controversies in the recent times attracting a lot of criticism from all quarters.
But, Tomic believes it's because of the intense personality of the two that the controversies seem to be around the corner all the time.
Speaking in a recent interview, Tomic who is the only Aussie player to be positioned in top 20 in the singles world rankings, said, "I think if you have flamboyant personality, you are always going to be in spotlight, but, you have to look to try and handle yourself as well as you can. In young age, it gets slightly tricky, but, as the years go by, you start learning and I think I am a bit more matured now than I might have been a few years back."
When asked where, he thinks, his Tennis stands, the 23-year old said, "I am in pretty good space at the moment, pretty satisfied with the way I have played of late. The consistency is coming in my game which is so very important. I hope to start the next season on a good note and keep moving up in the rankings."
The first tournament for Tomic in 2016 will be Brisbane International which is starting from 3rd of January.